Date & Time: August 15th, Singapore time.
Venue: Please note that zoom link for this event will ONLY be available to registered attendees through the KDD 2021 virtual conference platform. Make sure you register well in advance to avoid delay in accessing the conference platform and this event.
Overview
Environmental, Social, and Corporate Governance (ESG), which refers to metrics related to intangible assets within an enterprise, has been gaining increasing attention from both the public and private sectors in recent years. On the other hand, technologies, especially data-driven intelligence-enabled ones, have been playing a role of ever-growing importance in today's organization of all sorts. It is therefore high time to examine and explore the opportunities and challenges these KDD-related technologies have brought to ESG of today and tomorrow, and how we can design, develop and regulate these technologies to best foster ESG in a sustainable way. This special theme "ESG Day" of KDD 2021 has therefore aimed to bring together researchers, practitioners and experts from various communities to exchange and explore ideas, frontiers, opportunities and challenges under the broad theme of "Environmental, Social, and Corporate Governance" in a highly interdisciplinary manner.
Program Schedule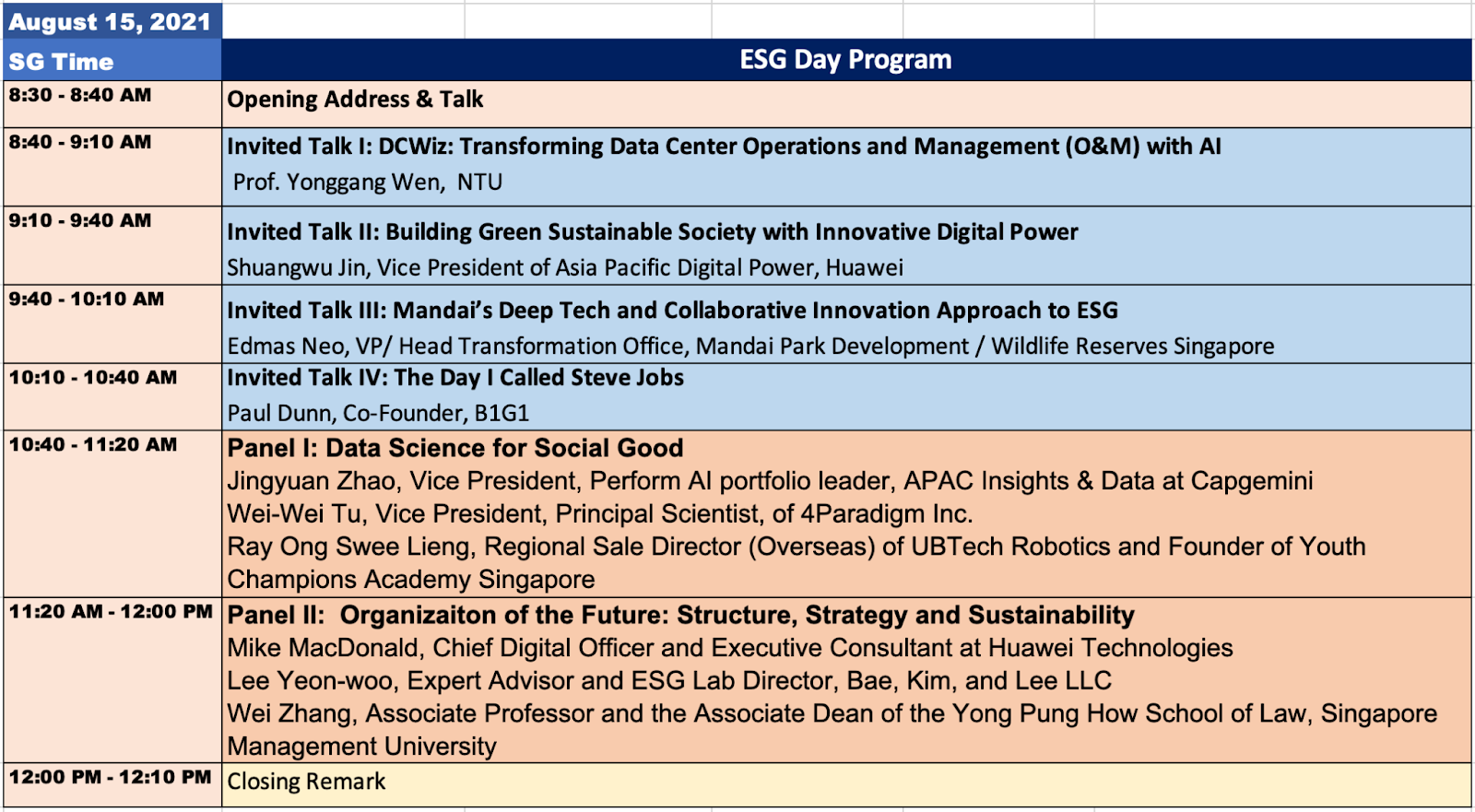 Invited Speakers
Yonggang Wen
Computer Science and Engineering
Nanyang Technological University


Steve Kim
Vice President of Asian Pacific Digital Power
Huawei


Edmas NEO
VP/ Head Transformation Office
Mandai Park Development / Wildlife Reserves Singapore


Dunn Paul
4-time TEDx Speaker

Panelists
Jingyuan Zhao
AI & Analytics APAC
Capgemini


Wei-Wei Tu
Vice President, Principal Scientist
4Paradigm Inc.


Ray Ong Swee Lieng
Regional Sale Director
UBTECH ROBOTICS CORP


Michael MacDonald
Group Chief Digital Officer and Executive Consultant
Huawei Asia Pacific


Lee Yeon-woo
Expert Advisor and ESG Lab Director
Bae, Kim, and Lee LLC


Wei Zhang
Yong Pung How School of Law
Singapore Management University

Co-Organizers